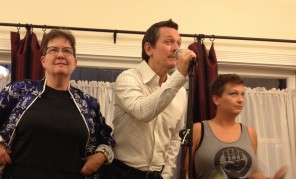 This year's LitCrawl was big moby fun, and attendance at the incomparable Borderlands Bookshop was standing room only despite a BART strike that created havoc with travel into San Francisco and jammed up the available city public transportation.
The crowd for this event always amazes me — unfailingly polite, attentive, and responsive. You couldn't ask for a better audience. Ellen Klages read from a story currently available at tor.com. She has a great ear for dialog and a real talent for voices, and I thoroughly enjoyed her reading. Allison Moon did a (ahem) bang-up job reading a lesbian werewolf sex scene that managed to be more tasteful than pornographic, though I couldn't help referring to it as Fifty Shades of Gray Wolf.
I usually record my performances, but I didn't this time because the piece, "I'm Sorry to Have to Tell You This," is already available on my Media page. Normally I'd do something new for LitCrawl, but I've been traveling and just haven't had time to learn a new piece.
This year's LitQuake after party was held in a much smaller (albeit nicer) venue than last year's party. It was DJ'd by Gavin Hardkiss, whose work I've heard for quite some time now. I got a kick out of that because I  was the DJ for last year's after party. It was fun to be on the other side of the decks for a change, though I admit to being jealous because the venue's setup was much nicer than what was available to me last year. Wahh.
I stumbled back to my apartment at about 5 a.m., so I think I can safely say that a Good Time Was Had by All.