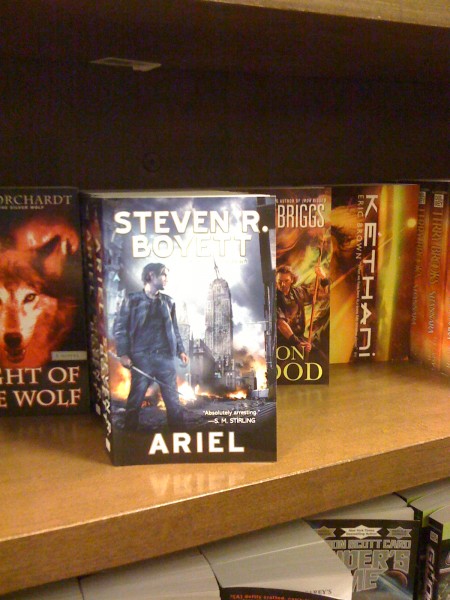 ARIEL is officially released today. Cory Doctorow, bless him, released a Boingboing piece on it this morning. Weirdly, I went to Barnes & Noble yesterday to pick up a copy of Cory's short story collection OVERCLOCKED, because I've been reading his essays on intellectual property in the digital age for a while now, and after meeting him at Worldcon I was definitely intrigued to see what his fiction is like.
The B&N had a bunch of copies of ARIEL in two different locations. I was a bit surprised, because they're usually pretty strict about not displaying until the official release date.  Guess I ain't J K Rowling. Am I complaining?  Hellno!
At first it just seemed kinda cool.  Oh, look, my book's out already. Swell! Then I thought about how long it had been since I had a book out on a bookstore shelf somewhere (at least, a non-used-book store). I've published (and not published) a decent amount since ARIEL in various media and categories (though to read the reactions & PR you'd think I went to a Himalayan retreat for decades, what's up with that?). But even so, it's been a long time since I had a book out (and with my name spelled correctly, Sooper Bonus Points fer that!). And it hit me oddly. A sort of glad melancholy. It feels good.
But I'll be honest:  it's ELEGY BEACH I'm really waiting for.