I have of late, but wherefore I know not, felt a growing hunger for change.  Complacency is poison to me, which can be both motivating and detrimental. I simply don't like to be still. I can do it, and enjoy it, but not for very long. I'm a lot of fun on the kind of hell-bent-for-leather vacations where you try to eat as much of some new place as you can in the time you have. But if you want to sit in a chair on a beach for five days, I am a nightmare. I don't know what to do with myself.
My life recently had begun to feel like those five days on the beach. Now, I don't expect anyone to say, oh, poor Steve, his life is a beach vacation, I bleed, I tell you.  This is not an entry about comfort.  This is an entry about how my mistrust of comfort leads me to do things.  For better or worse, I'm one of those Type-A Captain Kirk people who thrive on challenge. Who produce their best work under adversity. And who do nothing but stew, bitch, and stir up trouble when things get quiet.
Things have been quiet. Well, not so much quiet.  Things were too much the same. Not going anywhere. Maintaining.  I don't want a life of mere maintenance, even though that means dealing with more of what life throws you. I'm not an adrenaline junkie but I certainly prefer to take risks and fail than to simply … maintain.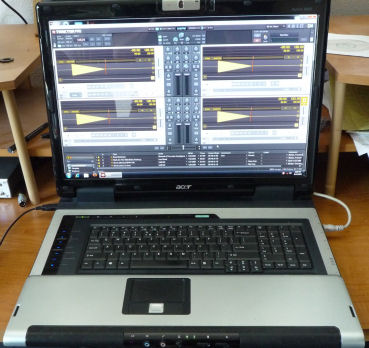 Since my beloved Acer 9800 21″ dual-drive laptop went (temporarily) the way of all silicon when the video chip on the motherboard went cough-cough, I took advantage of the opportunity to get a newer Core i5 desktop and a wonderful 23″ monitor (the Acer had been a desktop replacement). Then I spent months combing the earth for parts to fix the Acer. Once that was done (and a Homeric task it was; big shoutout here to Laptop Rescuer in Santa Clara, CA), I repurposed the Acer as my all-in-one home studio hub. Before that I'd been using my cherished but ancient Shuttle XPC, which I  customized to look something like an old radio. (I have a thing for trying to turn the machines on which I produce my creative work into creative works themselves.) I have produced Podrunner and Groovelectric and many of my compositions on the Shuttle for years, but software capabilities have passed it by, and the poor thing just couldn't handle the functionality of newer music programs.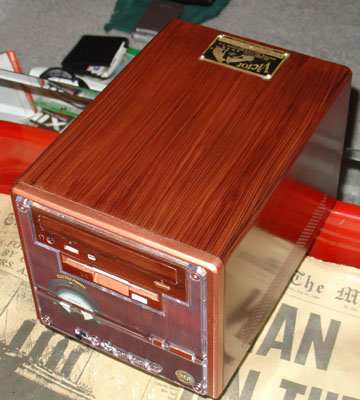 I was probably one of the last DJs to be using Native Instruments' Traktor DJ Studio version 2.5.3, sophisticated as hell when it came out, but dated now. For a while now I have felt creatively frustrated, and have wanted the capability, flexibility, and innovation offered by the latest version, Traktor Pro, which offers four decks, a buttload of effects, and a four-band EQ. This changes the idea of mixing from simple transitions from one track to the next (and maybe some fancy cutovers and tricks) to literally remixing tracks and minutely sculpting the sound on the fly. I have tried the versions of Traktor subsequent to 2.5.3 but found them buggy, unstable, or simply unusable for my needs. But I'm delighted to say that, despite some reservations and a few complaints, the latest update of TPro seems to work for me.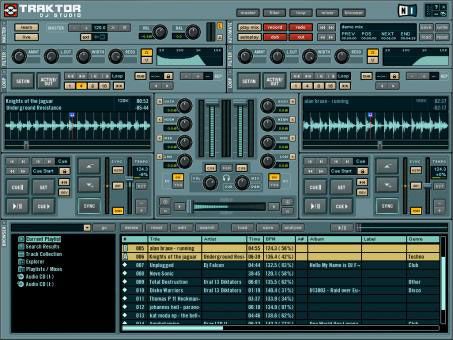 So I upgraded to Traktor Pro and Windows 7 Ultimate, upgraded my post-production software (Sony Sound Forge Pro 10), put away my amazingly rare and wonderful Faderfox DJ1 MIDI controller, dug out my amazingly rare and wonderful Bitstream 3X MIDI controller, and spent literally a week listening to thousands of tracks to resupply my Podrunner and Groovelectric inventory.
Then I set out to learn. I complain, I pound, I make up swear words.  And I learn.
And I immediately began producing some of the best stuff I've done in ages. And found my interest in DJing revitalized, my focus acute, and my enthusiasm for future mixes rekindled.  The listener email has certainly reflected it; people have noticed the difference. I am taking things slowly and trying out new functions and possibilities a little bit at a time, but it already seems worth all the hassle.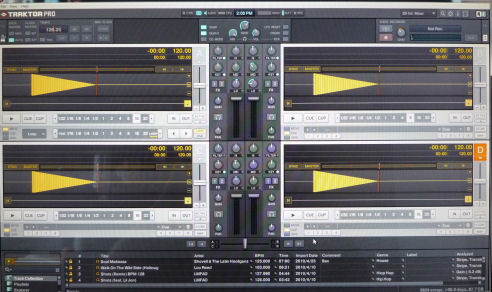 So next I turned my attention to writing. Ohhhh yeah. More on that next post  (and I promise it won't be four months till then).