Last Saturday's reading at SF in SF was an enormous amount of fun. Thanks to everyone who attended, and thanks to the wonderful Terry Bisson for hosting and interviewing, and to Rina Weisman and all who put together this splendid series.
I recorded the evening and will present the audio in three parts: Reading from Elegy Beach, reading a short story called "I'm Sorry to Have to Tell You This," and the subsequent Q & A with me and co-reader Dale Pindell.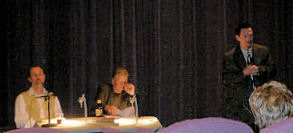 I also conducted a brief interview with Rick Kleffel of The Agony Column. He is an amazing interviewer, and I will post links when it is online.
SF in SF Reading – ELEGY BEACH Chapter 3:
[audio: http://www.steveboy.com/audio/boyett_-_elegy_beach_(reading).mp3]
Download: Boyett – Elegy Beach (reading) [16:12]