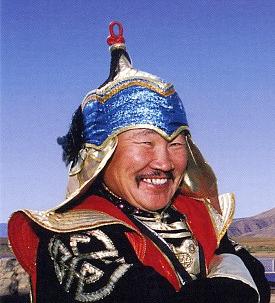 A few days ago I learned of the death of Kongar-ool Ondar on July 29 during emergency surgery following a massive brain hemorrhage in Kyzyl, Tuva.
Ondar was a master of the art of what Westerners call Tuvan throat-singing. He attained global prominence by a very odd route: When physicist Richard Feynman passed himself off as a Tuvan singer in an attempt to travel to Tuva (technically a Russian republic). Most Americans' first exposure to Tuvan throat-singing was a recording played briefly during the Nova episode Richard Feynman: The Last Journey of a Genius. There was a bit of a sensation for it, resulting in several Tuvan artists (most notably Ondar and the band Huun Huur Tu) attaining international prominence.
There was a period in my life when activities oddly related to regulated breathing were very important: Throat singing, didgeridoo, and yoga. During this time I started a Yahoo Throat-Singing Group (when Yahoo was the most prominent of such online groups), and that led to many unexpected adventures, some of which I discussed here.
I met Ondar twice. The first time was at a performance at the L.A. Public Library downtown, where I was extremely fortunate to see him perform with Paul Pena, a blind blues artist whose adventures traveling to Tuva are detailed in the wonderful documentary Genghis Blues. The second time was after a screening of Genghis Blues in Pasadena.  Both times he was gracious, and had astonishing charisma. I never saw him — live, on television, or recorded — when he didn't radiate joy.
Ondar performed on David Letterman, and with a truly eclectic number of musicians, including Paul Pena, Frank Zappa and The Chieftains (!), Bela Fleck and the Flecktones, and more. In 1993 he rode and performed in the Rose Bowl Parade in Pasadena.
In his own country Ondar was a national treasure. He was a much-loved ambassador for his country and its unique traditional music. I am very saddened by his early death, but it makes me happy that his music lives on. It's an example of the astonishing variety and ability of our species.