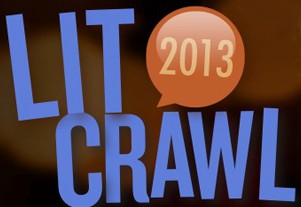 Back from two weeks in Ibiza (Space closing party, hellyeh) and a week in Florida (um, yuck), and I'm rushing to catch up and to prepare for my performance at this year's epic LitCrawl event.
LitCrawl is the capper to the week-long LitQuake festival, which features readings, panels, and other literary events throughout San Francisco. LitCrawl is the book-lover's equivalent of a massive pub crawl, in which 10 or 15 thousand people scurry from one event to the next on a Saturday night in the Mission district.
Last year I did my thing on opening day of LitQuake and then DJ'd the closing party (the mix, "Lit Up," is here if you want to stream, here if you want to download it). This year I'm performing at 8:30 PM at Borderlands Books Cafe (866 Valencia Street, San Francisco, CA 94110 [map]). The hour is titled "Fantastic Creatures and Extinction Events" (official page here). Also reading are Ellen Klages, Allison Moon, and Diana Orgain. (Apparently Annalee Newitz had to cancel).
Naturally BART went on strike at midnight last night, making the event enormously problematic for me and thousands of others. Parking in the Mission is nearly impossible during LitCrawl. Adding thousands more vehicles to San Francisco on a Saturday makes it a full-on nightmare. I have to say that, after seeing what subway drivers in Manhattan routinely endure a few weeks ago, I have very little sympathy for BART operators and their current demands.