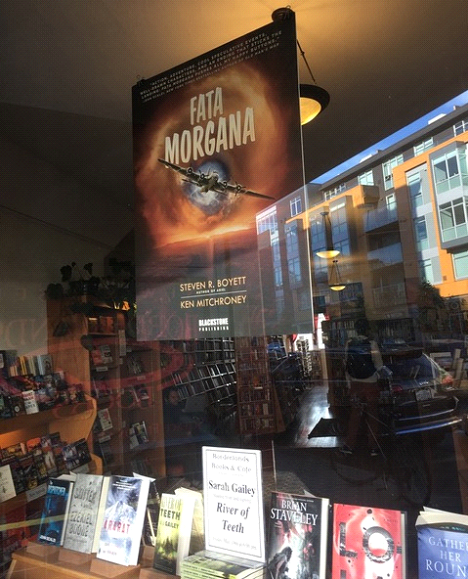 The wonderful folks at Borderlands Bookstore in San Francisco put the very nice poster for Fata Morgana in their front window, looking out on Valencia Street. Thank you, guys!
If you're in San Francisco and read fantasy, science fiction, or horror, I can't recommend Borderlands enough. The store itself is pleasant and well-stocked; the adjoining Borderlands Cafe serves outstanding coffee and pastries; staff is amazingly nice, helpful, and knowledgeable; and owner Alan Beatts is one of the most considerate hosts I've ever met. (Seriously. He makes me think I was raised wrong, or something.)
Even cooler (well, to me), Borderlands is hosting the Fata Morgana Launch party on June 10 at 3:00 PM.  That's a full three days before the official release date, so you can get your book — and get it signed by me & my co-author, Ken Mitchroney — before any other bookstore even has it for sale.
So come on down — I'd love to see you!