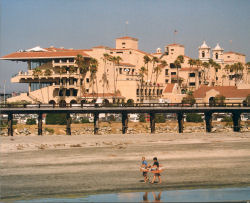 On New Year's Eve, DJ Ferry Corsten will be headlining a huge rave at the Del Mar racetrack in Southern California. Corsten isn't really my thang — he's a trance DJ, while I go for funky house, progressive house, & some tech house (and, curiously enough, I saw him on NYE a few years ago, following John Digweed, Who Is God)  — but I'm still loving this, because Chapter 13 of Elegy Beach (text here, audio here) is essentially a post-apocalyptic fantasy rave (called a "vibe") at the Del Mar racetrack.
Only two things could make this any cooler:
1.  Someone who has read Elegy Beach goes to Del Mar racetrack on New Year's Eve and has a total hallucinogenic deja vu moment, or
2. I somehow end up DJing at Del Mar.
Okay, universe, I just sent up a flare….
There's a weird kind of sympathetic magic that happens to me when I recontextualize a real place in a work of fantasy. It's as if from then on I have artificial memories of impossible events that happened there. I know where the pre-Change bubble is on I-5 coming down into the California San Joaquin Valley. I know how the Water Court in downtown LA's Bunker Hill ends up being used in Avalon Burning, and what confrontation took place in the ruins of CityWalk in Universal City. Which metal projection on the Empire State Building Pete grabs onto for dear life in the hang-glider sequence in Ariel. Where the pentagram is drawn on the dried pool beneath the tennis courts at Hearst Castle. The canal where Pete saw the manticore. Where the Goodyear blimp Spirit of America came down at the Tejon Pass. The spot on the bridge where Fred and Yan stop the Surfliner car between Del Mar racetrack and the ocean. Where the cornfield is in the Biosphere that gets raided by zombies in "Like Pavlov's Dogs." Where the entrance to Hell is in the upcoming Mortality Bridge (more about that in a future post).
Having a laminate of the impossible that can be placed atop the concrete world is one of my more obvious trademarks. It's also just way cool. And when something happens in the world after I've written about it in some impossible context — yowza.