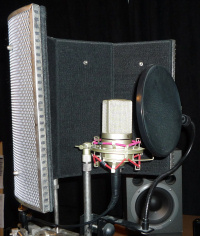 The audio recording of "Chapter 2: Crossroad Blues" from Mortality Bridge is online. I had to replace my normal audio player with a freebie version till I can figure out why my preferred one's playlist functions aren't working. Meantime this one seems perfectly spiffy.
In case anyone's curious about how these get created, it takes me about an hour to record 30 minutes of spoken narration, and probably four to six hours of post-recording editing and audio processing after that. Because of my DJ career I have a decent little home recording setup. I use an MXL condensor mic connected to an ART Studio V3 tube pre-amp and an SE Electronic Reflexion Filter "portable vocal booth" (pictured). I record & post-process using Sony Sound Forge Pro 10 on my laughably large (21″) Acer 9800 laptop.
After the raw narration is recorded I do "gross edits," which is a colorful way of saying that I delete the bad takes and pick the best of any alternate readings of lines. I mark any pops or clipping that will either need to be eliminated or re-recorded. I mark any lines that just plain didn't work for one reason or another. Replacement recordings for these are called "pickups," and are recorded in a later session.
I use a chain of Waves audio processors for post production — a noise gate to get rid of background hiss, a de-esser to squelch hissy "s" sounds that spike the meters & stand out, a de-breath plugin that figures out when you take loud breaths and mutes the volume on these so it isn't distracting (what an amazing timesaver this thing is), a 16-channel EQ to enrich the lower end & add some sparkle to the top just a tiny bit, and the L3 Multimaximizer to normalize volume levels so that they are more consistent.
I get rid of any extraneous noise — swallows, smacks, pops, thumps, etc.; it's always surprising how much of that there is even in ideal conditions. I do a "tightening" pass, which is simply eliminating longer pauses and finessing the timing so that it scans more naturally.
I don't usually add sound effects or apply weird fx to the vocals, but it seemed like a good idea in Chapter One to add a short plate reverb to Jemma's dialog while she's in the CAT scan, and a "phone line" EQ to the med tech on the intercom. Since there are three people talking in that scene, it helped to differentiate them, and also to distract from the fact that I probably don't do a woman's voice very well. (For Chapter 2 I did some slight panning to add some subtle emphasis to one character interrupting another a few times — along with the different character voices, it helps to distinguish them. A little of that goes a long way.)
I do final volume tweaking and then another light normalizing pass to add a bit of compression and even out the volume levels just a little bit more. I save the file in stereo (most recorded books are mono) as an mp3 at a bitrate of 192K. A lot of the narration you hear online is recorded at 96 and even 48K, which makes for smaller files, but introduces a lot of distortion and artifacts — I can't stand to listen to that for very long, and I don't want to make anyone else listen to it either.
I add information & cover art to the ID3 tags on the mp3 file and upload it to the website and then update the site page.
Good lord. Seeing all of the above makes me wonder why I go to all this trouble. And truthfully I have no earthly idea. But then I'm not entirely sure why I write the things in the first place. But why make anything? Cuz it's fun, it's challenging, it teaches you, and it feels good to make stuff.
In any case, I'm very happy with how this turned out.