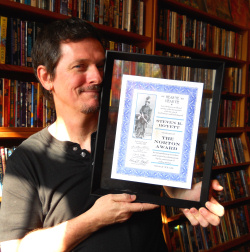 Mortality Bridge has won this year's Emperor Norton Award. Woo hoo!
Two Emperor Norton awards are given every year, one for the best novel by a San Francisco Bay-area writer, and one to an individual who has contributed to Bay Area culture. Rudy Rucker won the latter award.
The Emperor Norton Award is named after a colorful San Francisco eccentric who proclaimed himself emperor of the United States and even had his own currency printed (which some shops would accept, including, apparently, the printer who printed the currency), and is given to works "for extraordinary invention and creativity unhampered by the constraints of paltry reason." Previous winners include Cory Doctorow, Kage Baker, Doug Dort, Jack Vance, and more. (Nice company to be in!)  Judges are Alan Beatts (owner of Borderlands Books), Jacob Weisman (Tachyon Books publisher), and Richard Lupoff (terrific writer).
The award (a framed certificate) was presented at Tachyon Publications' 16th Anniversary celebration at the wonderful Borderlands Books in San Francisco. The party was terrific, Borderlands staff is just great, and I was startled by how many people I knew there, considering how relatively few events I've attended since moving to the Bay area about a year and a half ago. I was also very moved by how welcoming and open the community is here, and my undoubtedly incoherent acceptance speech said words to that effect.
Thanks to everyone at Borderlands and Tachyon Press, and to everyone who came for the party. It was a terrific day.