Mortality Bridge has won this year's Emperor Norton Award. Woo hoo!
Two Emperor Norton awards are given every year, one for the best novel by a San Francisco Bay-area writer, and one to an individual who has contributed to Bay Area culture. Rudy Rucker won the latter award.
The Emperor Norton Award is named after a colorful San Francisco eccentric who proclaimed himself emperor of the United States and even had his own currency printed (which some shops would accept, including, apparently, the printer who printed the currency), and is given to works "for extraordinary invention and creativity unhampered by the constraints of paltry reason." Previous winners include Cory Doctorow, Kage Baker, Doug Dort, Jack Vance, and more. (Nice company to be in!)  Judges are Alan Beatts (owner of Borderlands Books), Jacob Weisman (Tachyon Books publisher), and Richard Lupoff (terrific writer).
The award (a framed certificate) was presented at Tachyon Publications' 16th Anniversary celebration at the wonderful Borderlands Books in San Francisco. The party was terrific, Borderlands staff is just great, and I was startled by how many people I knew there, considering how relatively few events I've attended since moving to the Bay area about a year and a half ago. I was also very moved by how welcoming and open the community is here, and my undoubtedly incoherent acceptance speech said words to that effect.
Thanks to everyone at Borderlands and Tachyon Press, and to everyone who came for the party. It was a terrific day.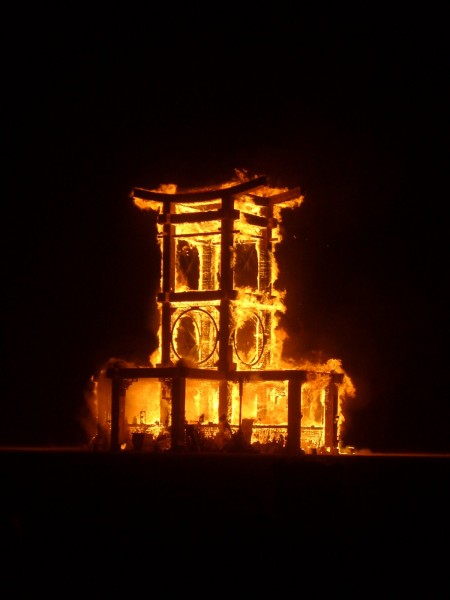 The Burning Man festival ended tonight (the Temple probably just finished burning as I type this; the Man burned the night before), and I'm a bit surprised to find myself missing it this year. Not that I don't think it's an amazing event -- I definitely do, though interestingly I haven't blogged much about its impact on me. It's just that I found myself indifferent about going the last few years, and given the expense and level of commitment involved with the event, "yeah, maybe I'll go" definitely isn't the attitude to have. Ya gotta really wanna go.
I honestly think there is profundity to be found there. But I don't want to make a habit of profundity (I know, I know: not a problem, Steve). As I said once about major hallucinogenics, you talk to God once and it changes your life. You talk to him every weekend and it's not long before you're both going, So what's new? Ehh. Yeah, same here.
Given the scale of the event and the magnitude of its impact -- individually and, I believe (with what some will probably regard as surprising idealism), societally -- it's weird to think of it going on as I type this. I get the feeling I should go next year. And that I should spend a bit of time here talking about why Burning Man was important and a bit transformative for me. (And no, it's not cuz I did drugs out there. I didn't. That seems kind of ... redundant.)
Okay, so in future posts I'll talk about why Burning Man was important for me. Meantime, enjoy this picture I took of the Temple burn from my first year (2007), from my Picasa web album.

The St. Petersburg Times & Tampabay.org have a regular feature called Nightstand where they ask authors what they are currently reading. They interviewed me a few weeks ago and the feature is up today, prominently headlined What's Steven R. Boyett Reading?
(I don't know why, but something about the headline makes me grin and shake my head.)
Writer Piper Castillo spoke with me for at least an hour for this piece, and considering that she had the formidable task of condensing my ceaseless blather and invective into a 400-word article, I think she did a great job. I doubt I sold any books (any of my books, anyhow), but I don't think I embarrassed anybody, either.
In case you are interested in what Steven R. Boyett is eating, I'm having a scrambled egg sandwich.