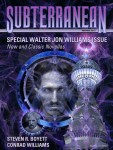 Subterranean Magazine editor Bill Schafer has made the Winter 2013 issue available as a free download in ePUB and Mobi format (that covers Nook, Kindle, & most other e-book readers). You can also download the Fall 2012 issue here.  This is a bodaciously cool thing for Bill to do!
Even more bodacious (and more cool), the Winter 2013 issue contains my dark fantasy/western novella "Hard Silver," so I'm even more stoked.
Go thou and do likewise.